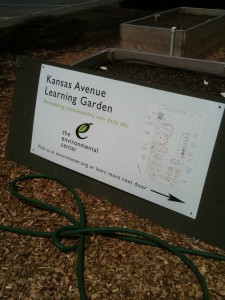 The Environmental Center is a fabulous place to learn about environmental choices and grow into an Earth Loving Person. The hard working staff at the center is devoted to the environment in a variety of ways! Check out their site for a list of what they do!
Educating the young kiddos in our schools is the most valuable asset to the center's program.  They stress the importance of reducing, reusing and recycling one's own waste.  When visiting the schools, they educate by using hands on materials. Whether they are bringing in trash to create something usable or sharing Red Wigglers to learn the value of composting, they are sharing their love for the planet.
Another piece of their pie is The Kansas Avenue Learning Garden,a new project this year.  They are creating a beautiful space filled with many raised garden beds, composting units and areas for learning to take place.  Last week when I dropped off my Red Wiggler castings, Denise was showing a group of second graders how to sift through the compost created by Red Wigglers.
They were using this air vent grate to sift out the Red Wigglers and large pieces of material which wasn't quite composted.  This material and wigglers were then put back into the worm bin and the valuable casting were stored for later use in the garden beds.  I thought this was a very clever way to reuse an air vent!  I hope to get my hands on one soon.  I will visit Packit, the local salvage center.
I am so grateful for the Environmental Center!  They provide so much to the community and to my business.  Many of my clients are referrals from my friends at the center.  WE are doing our best to reduce the amount of usable waste that heads to the landfill!