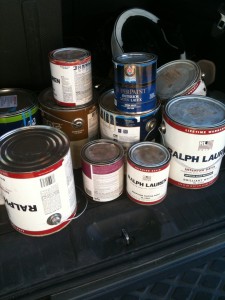 Intro: This is Part 2 of the 2 Part series.
Yesterday, I dropped off this trunk load of paint cans at the Bend Garbage and Recycling Center. When I left, I felt good.  I was happy that these cans were not going directly into the landfill.  But on the drive home, I started thinking….  I had no idea where they would be off to next.  What would happen to the rainbow of colors?
So this morning, I called Bend Garbage and Recycling and chatted with a really informative, Mr. Brian.  He actually told me he had to conduct some research because he didn't know all of the answers. I listened intently as he shared what he learned.
They are really off on an adventure.  An adventure to save the earth and be put to good use!
1.The cans are sent to a Metro Facility in Portland where they are sorted into Latex and Oil Groups.
2.The latex paints are recycled into more latex paints and some of those paints are used to paint over the graffiti…Good Job!
3.The oil paints, like linseed, are made into Bio Fuel….Very God Job!
4.The metal cans are shredded and then used as scrap metal.
5.The plastic cans are recycled into more plastic cans, tubs or containers.
There's one bummer to this recycling program, though!  The shredded scrap metal from the metal cans is sold over seas.  Fossil fuels are being burned to transport these metals to countries who will produce a product that will then make it's way back to the U.S. Just wish we could keep it on our soil.
At least there is less in the landfill.