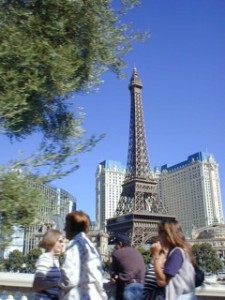 I am heading to Vegas to meet 4 of my college girlfriends and to celebrate the Year of the 40!  Good times will be had by all and there will definitely be lots of eating, drinking, dancing and laughing. Everything will be in excess! Which is all Vegas Style, right?!
Vegas is the land of excess.  It's full of non stop lights, sounds and sights. It's an overload for your senses.  There are  All You Can Eat Buffets, restaurants which are open 24 hours, lights that never shut off, lights that flash, ringing sounds, dinging sounds, thumpin' music, rotating doors, spinning doors, elevators, and escalators and the list goes on….  The place is just on fire!
I have mixed feelings about  Vegas….. America's Crazyville, America's Place of Indulgence and in my opinion, One of America's Most Wasteful Places. Yes, I realize I am participating in this waste and supporting Vegas with my cash.  This isn't my first rodeo either.  This will be # 4.  #1 was when I got married to my Carlos!  #2 was a get away with my Carlos and #3 was another get away with my Carlos.  My Carlos loves VEGAS!
This visit will be a bit different for me.  Of course, I am going to party my butt off, but I am also going there with a mission….a Worman Mission.  I am going to record a few things…things like trash cans and restaurants.  I may even ask the hotel manager how much they pay for utilities and if they compost!  lol….Geez, I can't even begin to imagine the cost to keep the lights on and the water running!  Now, I am really curious and really excited to get my butt there!  Wooohoo!  30 min and ticking, dinging and ringing………