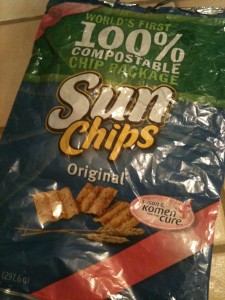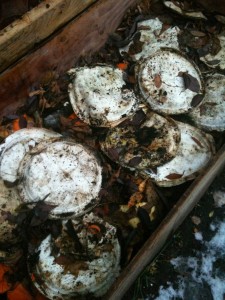 Ready, Set, Go!!! This empty SunChips compostable bag will be put to the test in a Wonder Worman Bin! I have faith in Frito-Lay and believe this compostable bag will break down.  The time frame is what I am not too sure about….13 weeks.  My gut is telling me it will be longer due to the temperature of the bin. The website states that composting will occur at quicker rates if the pile is at 130 degrees F. We are close to winter,and the temperatures are hovering in the 20's-40's.  Yesterday the temperature in the Wonder Worman bin was 60.
I sprinkled the bag with some of the bedding and compost mixture.  This bin has been actively composting since May.  It is already established with the brown(leaves, shredded newspaper, peat moss combo) and green(veggie scraps and lawn clippings) mixture.
By the way, the SunChips bag was added to my experimental bin!  About 4 months ago, I added compostable party plates to this bin to test their ability to compost.  These plates are breaking down and are very flimsy.  Since these plates claim to be compostable and are showing signs of composting, I have faith in Frito-Lay and their compostable bags!
I am not too sure what is driving me to prove them right.  Maybe it's the hope that all disposable products will be compostable.  I know there are other businesses out there looking to the future of our planet, Elements Naturals to name one off the top of my head!  I'm just disappointed that the consumer couldn't see the benefits of this bag which out weighed the minutes/seconds of noise they would need to endure.  The plastic bags will be around A LOT longer than the noise!