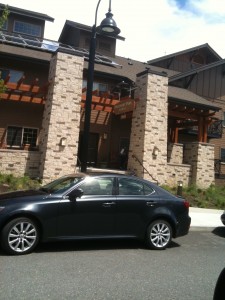 I'm sorry.   This is not a very good picture.  Most of you are probably wondering why I even included this in my post since it is such a bad picture.  Well let  me explain, and then I'll get to the "meat" of the post.  Here goes.  I just have trouble blogging if I can't add a picture.  In my opinion, there's something about reading a post with pictures.  When I read a post from other bloggers and there are pictures included, I scan those first to see what I'm going to be reading.  It brings the post to life, and it's a way for me to relate to the writer. Blog posts are like short stories and some are similar to children's picture books, connecting the pictures to the story.  Another tidbit of info for you, I am also a visual learner and therefore project that into my posts assuming my readers are too! Are you? Hope so! So on to the reason for this post!
This picture is so vague!  I could be writing about the car, the lampost, or the building.  I am not the best picture taker…photographer..(photographer sounds so professional). Any way, I took this picture in July and the purpose was to remember the name of the building, Discovery Park so I could call them and set up a meeting.  Discovery Park, as it is mentioned on it's website, is a senior (58-80ish year old), affordable housing community. Last July, I had the opportunity to speak to the residents and share my interest in vermicomposting.  We chatted about the food scraps and the benefits of composting.  The residents were wonderful and fun!  One in particular, Suzy, was really interested in the process.  She and I talked for a bit after the meeting and set up a time for me to collect her food scraps. I have been collecting her food waste for 5 months, and she also got her neighbor to jump aboard!  So I visit Discovery Park Lodge once a week and my worms get some extra treats.
Weekly collections have truned into weekly visits.  It's human nature.  As time goes on, relationships evolve.  In my mind, she is no longer the "lady I have to get food scraps from".  She is Suzy, a friend I need to visit.